Fiesole
Fiesole is located close to Florence, so close that many consider it almost an added district. By the way, it is Florence's luxury district.
Medieval in character, the village has been admired since the time of Carducci, who dedicated an ode to it in the second book of his Rime Nuove.
History and stories about Fiesole
The town was built on a double hill rising above the valleys of the Arno and Mugnone rivers and is 6 kilometres from the Tuscan capital.
Dating back to Etruscan times, it enjoyed its greatest period of splendour under the rule of the Medici, who wanted to make it a holiday resort by building a series of luxurious suburban villas based on the teachings of the famous architect Leon Battista Alberti.
The construction of the well-known Badia fiesolana, a Catholic abbey, also dates back to this historical period. The architecture is characterised by a Romanesque-style façade in white and green marble, while the interiors are in full Renaissance style with a Latin cross plan. The abbey is flanked by a disused monastery which is now the seat of the European University Institute.
Towards the end of the 18th century, Fiesole became a popular holiday resort for foreigners visiting Italy, and most of the town's prestigious homes were bought by foreigners, who formed a large community of northern Europeans and Americans. For more than a century and a half, many famous English-speaking poets and artists wanted to recreate the Renaissance atmosphere, a period that was recalled in famous films such as Ivory's 'Camera con Vista' and Zeffirelli's 'Un tè con Mussolini'.
This golden age of the Fiesole community was interrupted by the Second World War and the Fascist regime's ostracism of the foreign communities that settled in the area, who were forced to emigrate to their homeland to avoid problems.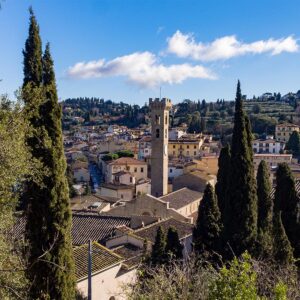 What to visit in Fiesole
The city is characterised by a high level of liveability and is characterised by wide green spaces and artistic treasures scattered everywhere, starting with the Romanesque Cathedral in Piazza Mino da Fiesole, the city centre, and continuing with Palazzo Altoviti, a Renaissance building now used as the seat of the Episcopal seminary, with wonderful frescoes inside by the pupils of Ghirlandaio, and the Church of San Francesco, an ancient complex consisting of the church dedicated to the saint from Assisi and a Franciscan convent in full Gothic style.
Also not to be missed are the vast Etruscan-Roman archaeological area, with its ancient thermal baths, Roman theatre and museum containing a wealth of artefacts from the period, and the Bandini Museum opposite, which houses works by various Tuscan artists of the late Middle Ages and Renaissance, including Bernardo Daddi, Taddeo Gaddi and Lorenzo Monaco.
Finally, if you love antiques markets, don't miss the one in Fiesole, held every first Sunday of the month in Piazza Mino and packed with precious pieces.
Villa dei Bosconi Surroundings