Lucca
Rich in structures reminiscent of medieval architecture, it is one of the few Italian capitals to have preserved its historic centre surrounded by 16th-century walls, which have remained unchanged since its foundation.
In its narrow alleys you can breathe art everywhere and, having enjoyed considerable independence until 1800, it has long managed to remain a focal point in the area for trade.
The history of Lucca
Of Ligurian or Etruscan foundation – historians are still uncertain – it grew under Roman influence, so much so that it was mentioned by Cicero, Livy and the Greek Strabo. With the collapse of the Roman Empire Lucca became the capital of the Lombard Duchy of Tuscia, with its territories encompassing the whole of today's Tuscany and part of Lazio, before becoming a Commune and finally a Republic.
In the late Middle Ages the city grew considerably due to its presence on the ancient Via Francigena, which was an important stop for pilgrims travelling along it, also due to the presence of the Volto Santo (Holy Face), a relic representing the crucified Christ that is still kept in the Cathedral of Lucca.
It was in this period that the city played a leading role in the vicissitudes of Tuscany, coming to be able to contrast the expansion of Florence as its only rival. After a century of slight decline, Lucca managed to regain its ancient importance thanks to a shrewd republican government, becoming one of the most important European centres thanks to its bankers and silk trade.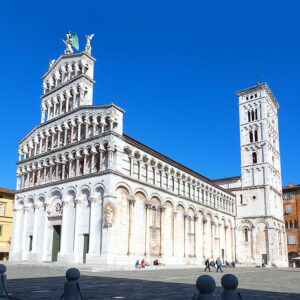 Until 1799 the Republic of Lucca managed to maintain its independence and importance, then, after the Napoleonic era, it briefly regained its independence as a Duchy, ending up incorporated into the Grand Duchy of Tuscany and, in 1860, was annexed to the Kingdom of Italy.
What to see in Lucca
Nicknamed over time "the city of 100 churches", given the presence of an extraordinary number of churches in its historic centre, in addition to the resulting towers and bell towers, Lucca can boast numerous testimonies dating back to the Renaissance, with works by some of the most famous artists of the time.
An obligatory stop on any trip to the city of Lucca is definitely the Duomo di San Martino, a fine example of a mixture of Romanesque and Gothic architecture located in Piazza San Michele, the city's historic centre. The main façade stands next to the symbolic bell tower, while the interior houses frescoes by Ghirlandaio and sculptures by Jacopo della Quercia.
Famous also for its futuristic urban spaces, Lucca boasts beautiful squares such as that of the Amphitheatre, rich in evidence of the Roman era due to its construction on the ruins of the ancient Roman amphitheatre that gives it its name.
Villa dei Bosconi Surroundings